Best of 2012 // December 31, 2012
It's no secret that I'm a sucker for a fly pair of heels. One of my favorite things to do as a kid was play dress up--and you can bet that included trying to strut in some over-sized pair of my mom's high heel shoes. While these days I prefer to wear shoes that are my own size, my love for a sky-high pair of pumps has not waned.
But I, like many women, am constantly faced with the work/heel dilemmas: are these too high for the office? Too "hooker-ish"? Too night-time? To some it may sound trivial, but these things really do affect how we ladies are perceived in the workplace--even in a more creative environment like the music industry, where I work. And while the goal is always to keep it classy and professional, we also want the world to know we have a little bit of shoe game. Rest assured, I did the work for you and tracked down some of the hottest, work-appropriate heels that'll carry you through this season and beyond. And they're far from your momma's pump.
The Wedge
One of my favorite "trends" this season is the re-emergence of the wedge. It's been kind of lingering in the background for a while now, but I'm loving that it's finally taking center stage. It's a great option if you're on your feet a lot--or just don't feel like balancing on stilts all day!
Rachel Roy "Lacina" – Available at RachelRoy.com - $110
This is a cute twist on the nude pump, with a fun pop of color. These are also available in teal, but you'll be able to get a lot more wear out of the neutral version. These are uber versatile and will pair well with a dress, slacks or skirt/blouse combo.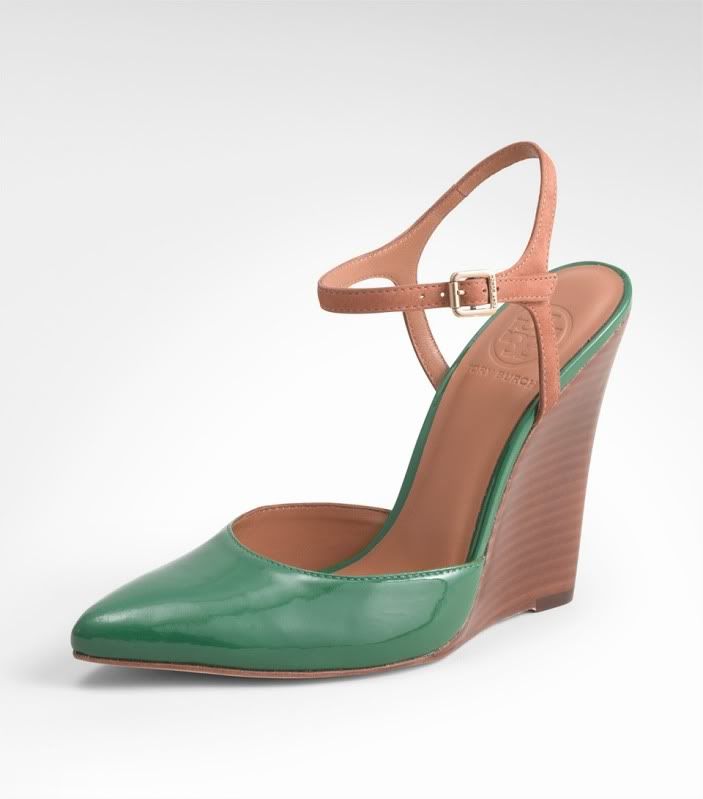 Tory Burch "Emilie" - Available on ToryBurch.com - $350
To me, this color color epitomizes Spring. I just think of freshly cut grass and walking through a field of flowers. I love this wedge paired with a wrap dress or tapered trousers for a laid back sophistication.
Dolce Vita "Pilar" – Available at Bloomingdales - $100
These are for the ladies who have a more casual work environment. While these are more of a fall look, you can nab this style at a discount now and they'll carry you into next fall. And if you live in LA like me, you can get away with a cute neutral bootie like this year-round.
The Classic Pump, With a Twist
Pumps are the obvious choice in an office setting. But that doesn't mean they have to be as drab as the neutral paint on the office walls. Here are a few options to spruce up your pump rotation:
Steve Madden "Knoyzz" – Available at SteveMadden.com - $89.95
I love the 1950s feel of this shoe, with its elongated round toe. The reasonable stacked heel and the give of the leather will keep your feet feeling great all day. Plus the plum color is so classy and wearable year-round.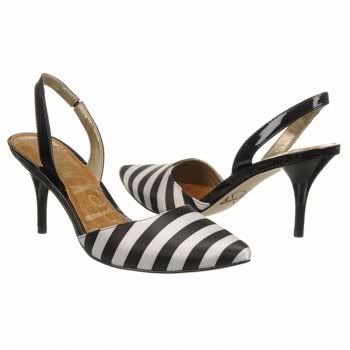 Sam Edelman "Orly" – Available at Bloomingdales.com - $120
So I must admit: I'm generally not the hugest fan of kitten heels or slingbacks. But what's not to love here? The style and pattern combo is so Parisian chic, and the heel won't put pressure on the ball of your foot like those Kim K platform stilettos you see everywhere. It also comes in a variety of patterns to suit your taste.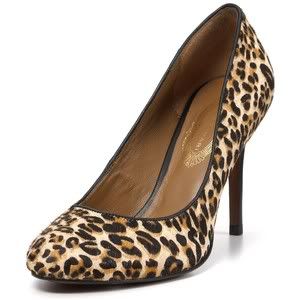 Elie Tahari "Bretta" – Available at Bloomingdales.com - $174
So you know how every year all the stylists say how "in" leopard is this season? In my opinion, it's safe to say that leopard isn't going anywhere anytime soon. I still get compliments when I pull out my leopard pumps I bought in like 2005. This pump has such a versatile, timeless style that can be dressed up or down--it's sure to be a great investment.
Put Some Spring in Your Step
What kind of person would I be if I didn't give you some cute, springy options to choose from? This season is always a great time to play around with color and more easy, breezy shoe options. Here are a few of my fave styles:
Juicy Couture "Flash Color Block" – Available on Bloomingdales.com - $228
I seriously almost started drooling when I saw this shoe. The color blocking offers an understated sexiness, and the chunky heel is easily dressed up for work, or down for a weekend outing with the girls.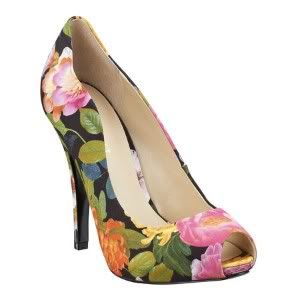 Nine West "Feelngood" – Available at NineWest.com - $99
A floral pump is so fun as an accent piece this Spring. Wear one color head to toe and pop these on, and you'll have the whole office asking who you're wearing. I'm loving the unique cut, and the classy pattern somehow reigns in the bright colors.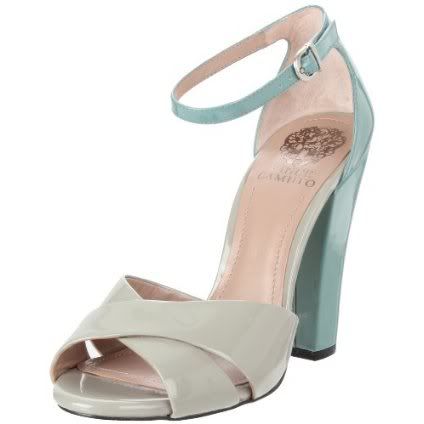 Vince Camuto "Bello" – Available on VinceCamuto.com - $129
I love this shoe for a casual Friday. Mint coloring is huge this season and can easily be thrown on with a pencil skirt for work, and a cute dress for a weekend brunch.
Keep in mind, these heel options are meant to be a jumping off point. If these options don't quite fit your style or budget, use them for inspiration and add your own twist to find something that works for you. That's what makes fashion fun in the first place. Happy strutting!