May 21, 2012
Less is usually more when it comes to getting dressed in the summertime. We get to shed our layers and opt for breezy skirts and cut off shorts. But what about jewelry? Should you keep that to a minimum as well? I say treat summer as you would any other season and don't be afraid to add jewelry to that maxi dress or even that swimsuit cover-up. Adding even one unique piece of jewelry is sure to turn up the heat on your look. Here's what's trending for Summer 2012:
Color, Color Everywhere...
Bold splashes of color are such a popular fashion trend right now, and there's no better season than summer to embrace it. The pops of color in these pieces will add pizzazz to any outfit.
This Adia Kibur necklace has bright neon colors wrapped up in a chain, making a colorful but edgy statement for $84.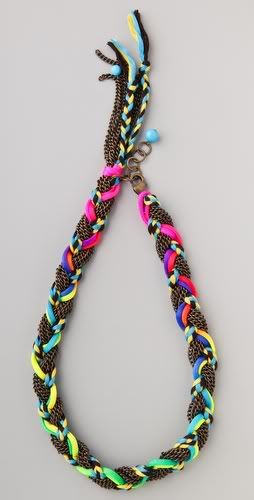 I love this Lano Bia bracelet! It's easy to wear and light (it's made of waxed cord), $72.
If you have a bit more money to throw around, I recommend investing in a quality jewelry piece from the ever-funky Dannijo. The Ines necklace is colorful, yet understated and sells for $326.
I'm On A Boat
Summer is the ideal season to embrace the nautical trend, since it is all about spending time on the water.
This cuff adds some bling to the trend. The ropes and Navy blue resemble the stripes synonymous with this style. If you want to go even bolder, the Noir Highlight Bracelet also comes in neon yellow, $106.
This bracelet combines two trends in one: color with a nautical knot. Noir Shaka Neon Bracelet, $143.
The sailor's knot has an iconic design all on its own. Kate Spade has a cute collection of these simple knots on everything from hoop earrings to bangles to necklaces. This dainty ring is only $48 and can be mixed with any outfit or other jewelry piece.
What would the nautical trend be without an anchor? These Gorjana studs say it all, and for only $35.
Buddy Bracelets
Growing up, we all wanted a bestie to share the other half of our heart-shaped BFF necklace with. (I know you remember those!) And as cool as we thought those were at the time, this trend is much cooler and at long last, contemporary! These simple "Friendship" strands come in a variety of colors to be layered or traded with your best mate.
This Madewell Friendship Necklace is simple yet eye-catching with a neon hue, $29.50.
These Ettika bracelets range in price and offer wearers (and their friends) a variety of choice. Buy singles or buy a stack. Choose ones with lots of color and crystals or ones with charms.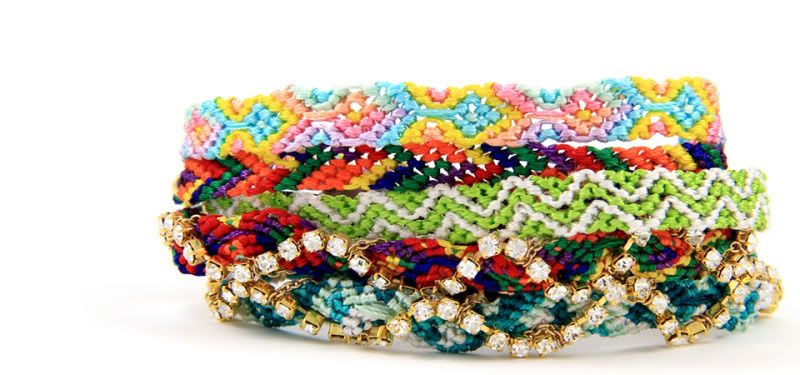 Being a huge fan of handmade jewelry, I love Sly Raven's take on the Friendship trend. Her pieces are colorful, simple, stackable, and are handwoven or macramé originals.
Go Bold! Tribal-Inspired Pieces
Fashion designer Nikki Lund knew what she was talking about when she said she was looking forward to the bold prints and colors that characterize the tribal craze for summer.
Vanessa Mooney's Fly Girl earrings are definitely fly at only $40.
This House of Harlow Cushion Cocktail ring looks like it could be vintage or really pricey, but it's neither. At $65, you can afford to stay on trend.
The Kayah Necklace by Bluma Project is handcrafted by artisans in Ghana. The best part is cotton is among its mix of materials, meaning this necklace is light and airy for summer wearing, $75.
If you're a minimalist or jewelry is not your thing, consider purchasing one of the daintier options above or try wearing a single bracelet or necklace instead of layering them up. If your wardrobe contains a lot of classics or basics, invest in one piece of trendy jewelry to carry you through the summer. Mix it up and have fun. After all, accessories are way cheaper than buying a whole new wardrobe. Let us know what you find!